Dedicated Entrance to Roman Forum and Palatino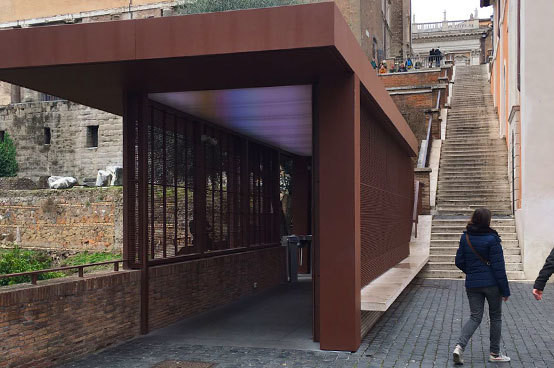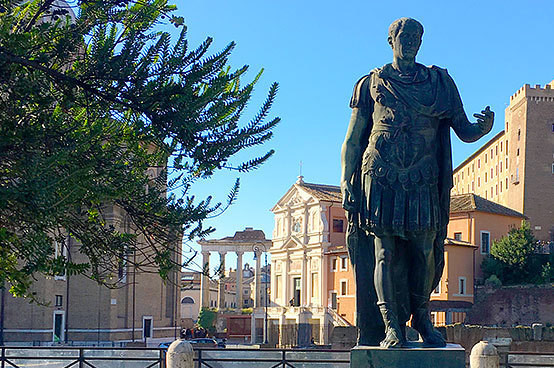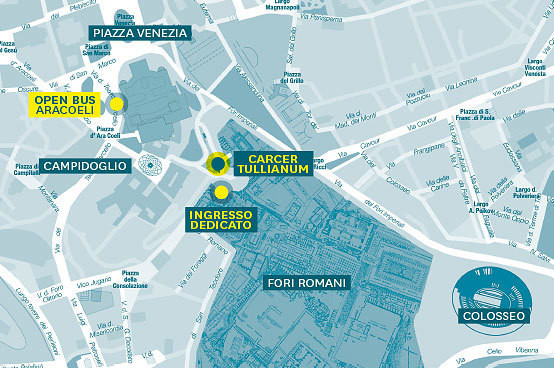 One ticket and you can visit the Colosseum, the Roman Forum, the Palatino and the Carcer Tullianum Museum.
Enter in the archeological area from the dedicated entrance in Clivo Argentario, n.1 and live the Ancient Rome without row .
Guide tour Supplement
You can visit the Carcer Tullianum and Roman Forum with an official guide having the only access to Colosseum and Palatine.
Access to the Archaeological Area of ​​the Roman Forum - Palatine Hill - Colosseum will be available every day at the following times:
8.30am - 4.30pm from October 30th to February 15th
8.30am - 5pm from February 16th to March 15th
8.30 am - 5.30pm from March 16th to 25th
8.30 am - 7.15pm from March 26th to August 31st
8.30 am - 7pm from September 1st to 30th
8.30 am - 6.30pm from 1 to 28 October
8.30 am - 4.30pm from October 29th to December 31st
Closed
1st January, 1st May and December 25th
The ticket office closes an hour prior the closing time.
Combo Carcer Tullianum + Colosseum + Roman Forum + Palatine
| | |
| --- | --- |
| Individual fee - Adult | € 20,00 |
| Individual fee - Reduced 6/17 years | € 5,00 |
Where exchange and issue the tickets:
Carcer Tullianum, Via Clivo Argentario n. 1, Rome
Important information
The cumulative purchase of more than 13 combined titles is not provided
The ticket for the Colosseum, Roman Forum and Palatine Hill is valid for two days from the first activation, only one admission to the Colosseum is allowed and only one entrance to the Roman Forum and Palatine Hill
Every first Sunday of the month, admission to the Colosseum, Roman Forum and Palatine is free for all visitors according to the ordinary opening hours. It is possible, at the ticket office of the Carcer Tullianum, to purchase the combined title Carcer Tullianum + Archaeological Area at a reduced price of € 7.00.
The visit to the Carcer Tullianum and the entrance for the Colosseum can be booked by the Carcer at the time of purchase
We inform you that for security reasons the Colosseum can host up to 3,000 people at the same time. This could lead to significant delays in accessing the site.
For further facilitations:
tel +39 06 69896379
email romacristiana@orpnet.org
Supplement Guided Tour Carcer Tullianum and Roman Forum only with the entrance to the Colosseum and the Palatine Hill
Meeting Point: ORP Office, via dei Cestari, n. 21
Important information:
The guided tour is scheduled only for the Mamertine and Roman Forum
The title entitles only to the entrance of Colosseum and Palatine, but no explanation is provided.
The visit lasts about 3 hours, and is scheduled for groups of up to 13 people.
Saint Peter's Office
Palazzo dei Propilei
Piazza Pio XII, 9 (Piazza San Pietro) - 00193 Roma
Opening to public
From Monday to Saturday from 9am to 5pm
Sunday to 9am to 1pm
Special Openings
24 December 2018 9am - 4pm
25 December 2018 9am - 1pm
26 December 2018 9am - 1pm
31 December 2018 9am - 4pm
01 January 2019 9am - 4pm