In the centre of Christianity with St. Paul, the Apostle
Apostle of gentiles - the biggest missionary of all times
Saint Paul's Basilica, with its impressive byzantine structure, is the biggest patriarchal Basilica in Rome after Saint Peter's in the Vatican. Rising in the first centuries of Christianity where Saint Paul was buried, when in 313 the Imperor Constantine announced the "Edict of Milan" that put an end to the persecution of christians, giving them the freedom to practice their religion and favouring the constrution of places of worship.
The place of Saint Paul's martyrdom, destination of pilgrimages from the first century, was monumentalized by the construction of a small Basilica. The only part of which is conserved today is the arch of the apse. It would have been a small building probably made of 3 naves and would have housed Paul's tomb in the vicinity of the apse, adorned by a decorated cross.
The byzantine Church became too small to welcome the influx of pilgrims and it was believed necessary to demolish it in favour of constructing one that was much larger, which changed its orientation from west to east.
Proving their love for the church, the popes never stopped restoring nor adding frescoes, mosaics, paintings and chapels to it over the centuries.
Pope Saint Leo the Great (440-461) covered the Arch of Triumph with mosaics, restoring the roof and commissioning the famous series of papal portraits that run around the entablature of the nave and transept.
The Church today is a result of profound restoration works: in 1823 a ferocious fire destroyed most of the old Basilica. Only the transept, the Arch of Triumph, part of the old facade and the Cloister from the ancient and glorious structure remained intact.
The new Church was consecrated in 1854 during the Potificate of Pio IX.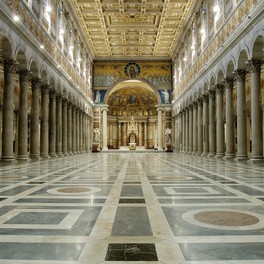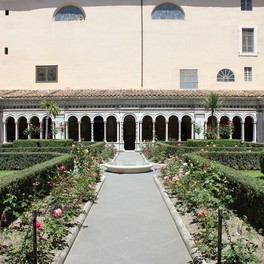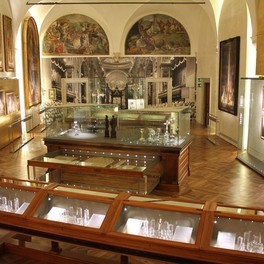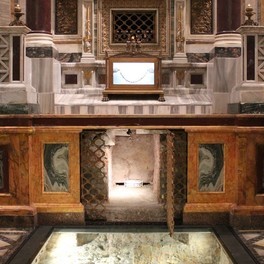 Discovering the Basilica of Saint Paul outside the Walls with multilingual audio guide.
Entrance to the Cloister, Pinacoteca and to the archaeological site without audioguide​
| | |
| --- | --- |
| Individual adult rate | € 4,00 |
| Individual child rate (6-17 years) and over 65 | € 3,00 |
The quote includes: Roma Cristiana Welcome with entrance to the Cloister, Pinacoteca and to the archeological site
Children up to 5 are free
Free for disabled
Guided Tour
It is possible to book a guided tour of the Basilica, the Cloister, Pinacoteca and Archaelogical Site
For reservation: email romacristiana@orpnet.org
Opening times:
Basilica: everyday open from 7am to 6:30pm
Cloister, Pinacoteca, Archeological Site: everyday open from 9:00am to 6:00pm
HOW TO GET
From Termini Station
Metro Line B, direction "Laurentina", stop "Basilica San Paolo", and then 3 minutes on foot.
By Metro
Line B, direction "Laurentina" and then 3 minutes on foot.
By Bus
Bus n° 23, direction "Pincherle/Parravano", stop "Ostiense/LGT S. Paolo"
St. Peter's Office
Palazzo dei Propilei
Piazza Pio XII, 9 (Piazza San Pietro) - 00193 Roma
Opening to public
From Monday to Saturday from 9am to 5pm
Sunday to 9am to 1pm
Special Openings
24 December 2018 9am - 4pm
25 December 2018 9am - 1pm
26 December 2018 9am - 1pm
31 December 2018 9am - 4pm
01 January 2019 11am - 4pm